As the backbone of the Nano Finance system, the Coordinators play essential role in Nano Finance operations within each community, providing support, trust and loving care to the thousands of women who live in the dire condition of extreme poverty.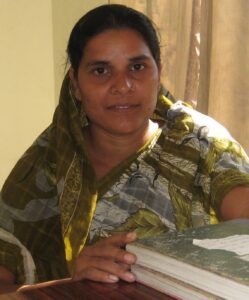 Pratima Sahu is the coordinator of Western Odisha. Her love for the organization and her unselfish desire to help other women have taught her to be a leader. Previously, she was in extreme poverty after loosing her husband at a very young age with two young children. She claims that Aamara Biswas has not only given her livelihood but strength to take care of her two sons. She tells she will always work for Aamara Biswas and help women.
Itishree Behera is the coordinator of fishermen's village of Jagatsingpur district. She tells how she and the women from her village have come out from the four walls of their houses and started earning money through the Nano Finance system. She and her friends are proud to be part of Aamara Biswas
Gita Pradhan, the coordinator of Khamara, Anugul district, says Aamara Biswas has brought wealth to her and her friends. By taking small loans multiple times for agriculture, all the women, including Gita, now have savings in the bank. She tells that since she started bringing money to the family, her husband loves her more. She strongly encourages women to be financially independent to earn respect from their husbands and other family members.
Nirumpama Barik is the coordinator of Balikuda, Jagatsingpur district. She believes that Aamara Biswas (AB) is her organization. Though she was asked to join politics at the village level, she decided to stay with AB. She thinks working for AB is more challenging and worthwhile than politics.
Sushmita Mangaraj, from the Mahanga village of Cuttack district, tells that the Nano Finance has fulfilled her vision of helping the women of her village with minimal funds. She is surprised to see the impact of Nano Finance system on the women in a short period of time.
Kedar Sahani's unselfish dedication for the organization is worth mentioning. He is the main marketing person for the organization. The Aamara Biswas center was possible only due to his hard work and tireless effort. He monitors most of the projects undertaken by Aamara Biswas.
Padma Kumbhar is the coordinator of Sniper district. Previously, she and her friends were taking loans from the money lenders with high interest loans. Now the women get financial assistance from Aamara Biswas which they use for small trades, for children's education, and health care. Padma feels proud to be part of Aamara Biswas organization.
Sabita Jena is the coordinator of Lalitgiri village of Cuttack district. She tells; "she is very fortunate to work for Aamara Biswas." Through the Funding with Trust program, she can help many women who are in extreme poverty for which she is grateful to Aamara Biswas.
Surendra Nayak is the coordinator of Matiparilo of Cuttack district. A few years back he lost his young son in cancer. Aamara Biswas has given him strength and courage to move forward in his life despite the tragedy he has gone through in the past. He claims that Aamara Biswas has changed his destiny.
Swati Upadhyay is the coordinator of Bilaspur of Chhattisgarh state. She tells; "Aamara Biswas has given her the opportunity to work for the women for which she is thankful to the organization."